Families of Howell County
The Nease & Lutrell Families of Howell County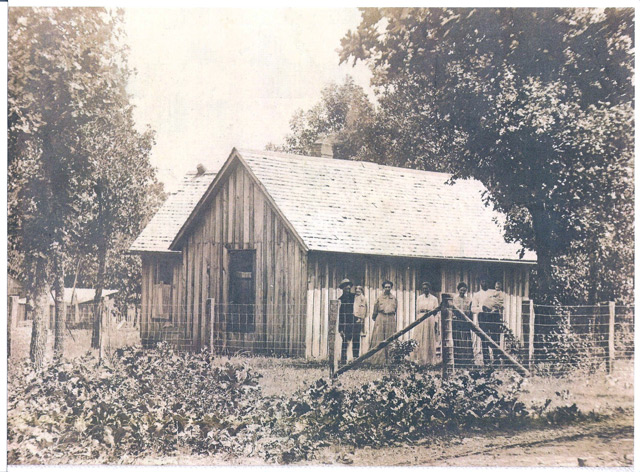 The information on this page is taken from an e-mail correspondence with David Raby, a descendent of the Naese/Lutrell families.
There is a story posted on the Internet called "The Tale of a Wagon Train of Immigrants from Greene Co, TN to Howell Co., MO - 1871" http://www.genealogyforyou.com/usa/tennessee/greene/1871wagontrain.html that tells of the first migration of families to Howell County from Greene County, Tennessee. It mentions at the end of the piece that Jesse Van Buren Luttrell was one who probably took a similar journey later. Sarah's 1910 obituary said that the family had made the move about 25 years earlier. If my great-grandparents John Thomas Nease and Rheuhama Cordelia Knipp traveled with them then the trip was taken between November 1882 when son John Nease was born in Tennessee and February 1885 when son James Nease was born in Missouri (again, according to the 1910 census). I mention this because I am attaching a photograph from my cousin labeled the first Luttrell home. The reason I am sending it is because it is a pretty good photo taken 120 years or so ago. I don't know who the people are in the photograph, although I presume that Jesse and his wife Sarah are one of the couples in the picture.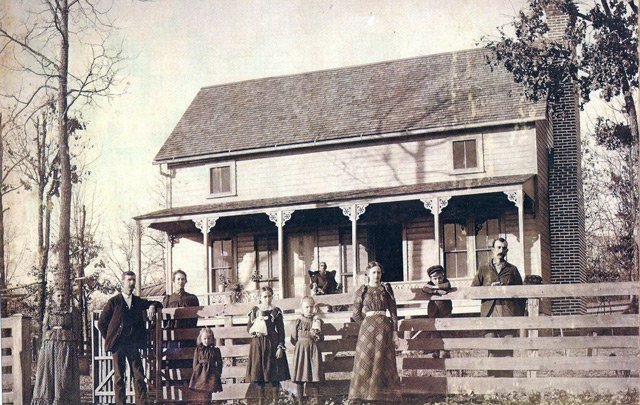 In Ella Lilly Horak's book Willow Springs and Surrounding Communities 1869-1969 Centennial there is a section beginning on page 311 titled "A Memorial to Saul Shreeve." On page 312 it states that Saul built many of the buildings now in the Stoney Point District, including the Jess Luttrell house. I believe this is a photograph of that house. Although the people in the photograph were not identified, I have other Luttrell family photos so I think I have figured out who they are:
On the porch in the rocking chair is Jesse Van Buren (I tend to separate the names but often I have seen it written as VanBuren) Luttrell (1840-1910). And, from left to right: 1. Sarah Elizabeth Nease Luttrell (1848-1910). 2. John S. Payne (1861-1921) -- more about him and his daughters to follow. 3. Mary Catherine Luttrell Payne, John's wife (1875-1934). 4. Pearl Payne Wade (1897-1926). 5. Minnie Alice Luttrell Mitchell (1887-1971). 6. Minnie Payne Early (1890-1980). 7. Emily "Emma" F. Roberts Luttrell (1875-1969). 8.Homer Jesse Luttrell (1895-1964), and 9. William Franklin "Frank" Luttrell (1869-1938).
John S. Payne was first married to a woman named Sallie Jones (1871-1899) and they had two daughters, Minnie and Pearl. Sallie died in 1899 and John married Mary Catherine Luttrell in March 1900. From what I have seen in records I have seen, Mary and her step-daughters were close.
# 5 Minnie Alice Luttrell Mitchell's daughter Audrey (1920-____) would marry Donald Edgar Raby (1922-1927). It is their daughter Marilyn who has shared this information with me. Marilyn was already a cousin of mine because of the Nease connection, but she became a double cousin because her father Donald was my father Henry Howard Raby's (1912-1976)first cousin. And another connection -- # 7 Emma Roberts was the daughter of Teresa Tabitha Herndon Roberts (1846-1938) who was the sister of my other Missouri great-grandmother, Emily Francis Herndon Raby (1852-1931).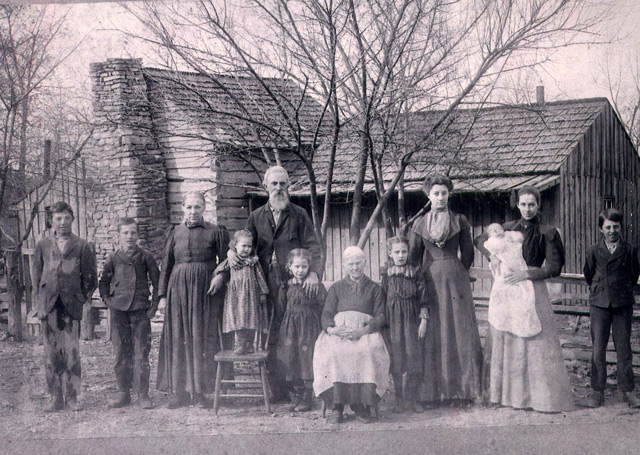 This photograph was taken 1900-1901. The baby John Thomas Raby was born November 15, 1900.
This is the family of John Thomas Nease and Rheuhama Cordelia Knipp taken in front of their home or in front of the home of John's mother (seated).
From left to right: James Nease (1885-1939), Elbert "Ebb" Nease (1889-1974), Rheuhama Cordelia Knipp [Nease] (1851-1903)., Miinne Mae Nease, standing on chair (1898-1938), John Thomas Nease (1846-1924), Leona Lilly Nease [De Vore], standing front of her father (1894-1967), Catherine "Kate' Renner [Nease], seated, mother of John Thomas Nease (1827-1910), Ellen Laura Nease [Landers] (1891-1983), Catherine Elizabeth Nease [Parsons] (1880-1977), John Thomas Raby (1900-1955), being held by his mother. Fannie Bell Nease [Raby] (1877-1913, and Marion Scott Nease (1887-1955).
Note: "Kate" Nease is also the mother of Sarah Elizabeth Nease Luttrell.
Note2: Fannie Bell is my grandmother. Something I left out of my comment on the Luttrell Home photo -- I am guessing that it was taken about the same time this picture was, 1900-1901, sometime after Mary Catherine Luttrell married Joseph Payne.
Persons with an interest in this family may contact David Raby directly.