Families of Howell County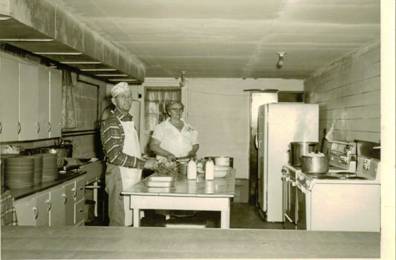 Chick and Gladys Turner, Howell Valley School's Memorable Meal Makers
(Howell Valley School is located on ZZ highway, southeast of West Plains, Missouri)
Written by: Vivian Sue McMahan Brake
One the earliest memories I have of Grandma and Granddad Turner is being with them at Howell Valley School.  I was very young.  I couldn't have been more than three or four years old.  I don't know why I was with them.  It was not a common occurrence for me to stay overnight with them, and certainly not for me to go to work with them. 
Whatever the emergency was that resulted in their taking care of me; I remember having a good time going to work with them.  Even though it has been more than fifty years ago, I can still close my eyes and see in my mind's eye the white uniform Grandma wore and Granddad's hat and apron.  Best of all, I still remember the smell of dough rising for home made rolls.   I recall kids hurrying to see what was for lunch and asking if they smelled hot rolls.

Grandma and Granddad started cooking at Howell Valley sometime in the late 1940's.   Grandma's ledger has the names of teachers and students recorded from 1948 to 1957.  Many of the students such as R. Jack Garrett, Travis Morrison and Sharon Sloan who attended Howell Valley School during those years grew up enjoying Grandma and Granddad's cooking.  These many years later they still talk about how wonderful "Miss Turner's" school lunches were.

Grandma took pride in "Setting a good table."  She was a wonderful cook and put her heart into her meals.  That was true when she cooked for her family, company or her "kids" at Howell Valley. 
During those days there were very few delivery trucks.  Granddad purchased most of the groceries and needed supplies from local grocery stores.  There wasn't such a thing as pre-packaged foods.  Pizza and hotdogs were not on the menu.
Grandma's menus did have picnic ham, meatloaf, peach, apple, and blackberry cobbler, home made ginger bread, cakes, fried chicken, mashed potatoes (not instant) and gravy.  Occasionally, she served bologna sandwiches along with potato salad, fruit, desert and milk.  Beans and cornbread and beef stew made from scratch were frequent menu items.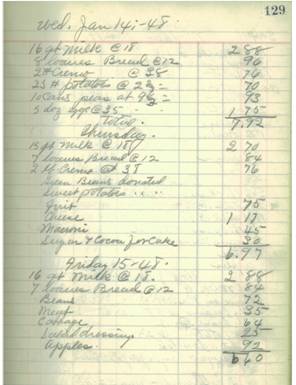 Besides not having fast-foods to serve, there were no automatic dishwashers or garbage disposals to help with clean-up.  This was all done by hand.  Sometimes upper grade students would be allowed to work in the cafeteria.  I can't remember if this was to help them pay for their meals or if each class took turns helping in the lunch room.
Grandma and Granddad were serious about their work.  I'm sure students were required to "toe the line" when they ate lunch or worked in the cafeteria.  The work was hard but there was love in those meals.  Grandma wanted to make sure each student had a "good hot meal" and got their money's worth each week. A Valentine in Grandma's record book addressed to Mrs. and Mr. Turner says,
"These words have all been said before,
But somehow, dear, they mean much more
Today as I repeat them to
Somebody very sweet…
like You!
I Love You!
from Patsy, Yvonne & T.L. Hunsberger
When I think back to my own school days, I can't say that I remember any memorable school lunches.  For students to comment about what great cooks they had at their grade school more than fifty years ago speaks for itself. It's certainly an honor for the two people who gave them the memories.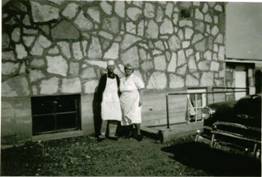 Adam "Chick" Turner was was the son of Howell County Pioneers, James and Mary Ann Barton Turner who came to Howell County in 1870 and settled in Dry Creek Township west of Olden, Mo.
Gladys Marie Turner was the daughter of George W. and Annetta Glinn Brown whose families settled in the Grimmitt area, not far from New Liberty Church northwest of West Plains in the late 1860's.