Submission
David Smith Family
Submitted by Dick Smith
David Smith was born in Henry County Iowa. On February 8, 1876 he was married to Catherine Jane Wilson in Montgomery County, Iowa. To this union was born 4 children; Annie Dory – 11/10/1876, who died as a very young child; William Ervin – 9/15/1878; Laura Avis Smith Galer – 7/13/1880; and Cora Ethel Smith Barrett – 10/14/1891.
Aunt Cora is the only one living as of April 1983. Some time before Ervin's birth the grandparents moved to a farm in Mt. Ayr Township, Osborne County Kansas where they continued to live most of the time until probably about 1903 when they moved into Alton, Kansas.
Grandfather David Smith bought an implement and hardware store in Alton but did not own it for very many years as I remember. He raised a few head of cattle and had an income from the farm which Ervin Smith operated.
In the spring of 1909, after Grandmother Kate Smith's death, he and Aunt Cora (who was still at home) moved to Howell County Missouri, near a little country town of Sterling. He and my father had bought acreage together which consisted mostly of timber land and apple and pear orchards. We, the Ervin Smith family, moved there very shortly after that too.
There were 2 houses on the farm. Grandfather sold his home in Alton before moving to Missouri but kept the farm in Kansas. While living in Missouri enough logs were cut to build a house, and enough lumber milled from the acerage to build a barn. This was all shipped by rail to Alton, Kansas and used to build a home for the Ervin Smith family on 160 acres of land owned by us in Osborne County, south and east of Alton.
Grandfather and Aunt Cora moved back to Kansas on to his farm before the lumbering was completed. Then we moved back and lived in an old house nearby where our house and barn were being built. The farm in Missouri was not sold but rented out. The Smith families kept the rails hot between Kansas and Missouri for a few years until finally both farms were sold in Kansas and Grandfather Smith remarried and continued to live in Missouri till the time of his death.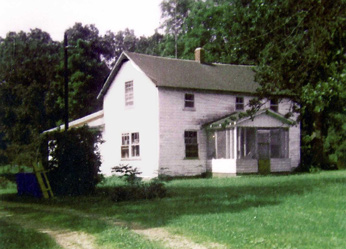 He married Elizabeth Ely, an old maid school teacher, probably about 1913 or 1914. She taught school in Alton, Kansas, during their courtship and till time of their marriage. Grandfather suffered a stroke in the summer of 1922 which resulted in his death. He was buried in Willow Springs, Missouri, as his body could not be shipped back to Kansas due to a railroad strike at that time.
An effort is being made to locate his grave and, if feasible, bring him back to Kansas for burial in the family plot in Mr. Ayr Cemetery. His widow, Elizabeth, was shipped east for burial in her family plot at her death so Grandfather is alone there. They never returned to Kansas after their marriage nor did we visit them so I really never knew her. She did write me letters now and then and send us small gifts. And she was very good to Grandfather.
Photo: David Smith house about 2 1/2 miles east of Hutton Valley, Mo. Mary Maxine (Gregory) Williams lived in this house as a child after David died. The Gregorys are descended from David's sister Mary.
If anyone has additional information on David Smith, please contact the original submitter via email.